I have lived close to Roebuck Bay in Broome, north Western Australia (NWA), since 1996. When I emigrated from the UK, "25 years at the best shorebird site in the world!" is my un-biased statement on that. Initially I worked at the Broome Bird Observatory (BBO) before establishing Turnstone Nature Discovery: a bird-watching and nature tour business. Gradually the tour business was wound down and I moved in to research work and in 2006 I was contracted by Global Flyway Network to conduct their colour-banding project in NWA. A major part of this study now involves two months of field work in northern China at the Luannan coast, Bohai Bay. GFN have been working alongside Beijing Normal and Beijing Forestry Universities for 15 years with the last 12 years covering the entire 2 month northward migration period of Red Knots through the area. The number of Red Knots from NWA that pass through this site would be over 80% of the total that spend the non-breeding season in NWA. It's an important site to say the least! The long collaboration has recently resulted in the establishment of a Wetland Park to, hopefully, conserve some mudflats, aquaculture ponds and subsequently the birds.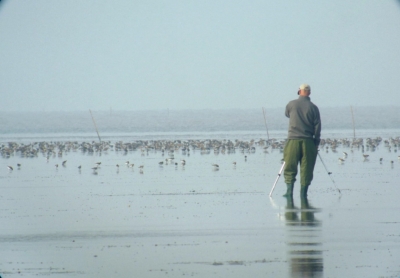 Scanning Red Knots at Bohai Bay, china
I also coordinates population monitoring programs on migratory shorebirds in NWA.
When not being a shorebird nerd I'm drinking tea, listening to music and following the fortunes of Leicester City (good) and the England cricket team (fluctuating wildly).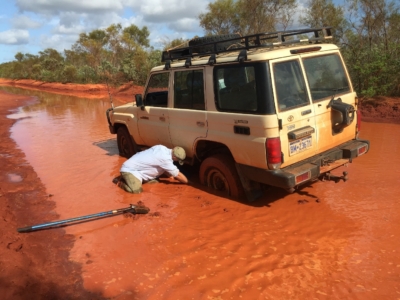 Mostly the job's great but, not all the time.