My first introduction to Team Piersma's works in the East Asian-Australasian Flyway was in Broome, North-west Australia shorebird banding with Chris Hassell in November 2008 during a 3-week expedition. That's where I start connected with migratory shorebirds and the people working to conserve them.
I help with GFN's field work at Bohai Bay to record colour bands and flags on Red Knot and other shorebirds during spring migration. In the past years I have only been an occasional visiting volunteer spending a week or so with the team. I wouldn't have thought that I am now playing the role in leading the field work with teammates from China during the pandemic. Leading the field work in 2020 and 2021 seasons just came in time perfectly with the site new designation as a protected area to become a Provincial Wetland Park. I attend the Park's stakeholder workshop organised in June 2021. GFN's years of knowledge on how shorebirds use the site was brought to the stakeholders at the meeting, and will be influential to the Park's future management (see more from Bohai Report 2021).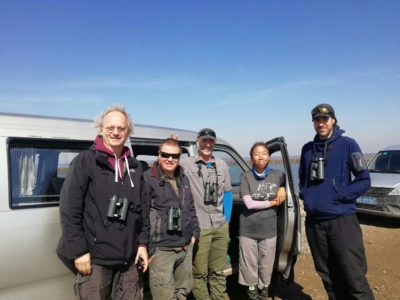 Happy team on Nanpu seawall, Bohai Bay, China after a morning scanning session. © Mr. Liu, May 2018
Originally from Hong Kong, I used to work at Mai Po Nature Reserve, part of the Mai Po Inner Deep Bay Ramsar Site which habitats are actively managed for the conservation of waterbirds and biodiversity. I gained much knowledge on waterbird monitoring and wetland management in my twelve-year of work there. Nowadays, I am self-employed and spend most of my time working along coastal China. I am involved with waterbird survey work in Shanghai Chongming Dongtan Nature Reserve and several important shorebird sites in Jiangsu (Lianyungang, Dongtai, Rudong). Many of these sites are great for colour-bands and flags scanning so I do that whenever the opportunity arises after surveys.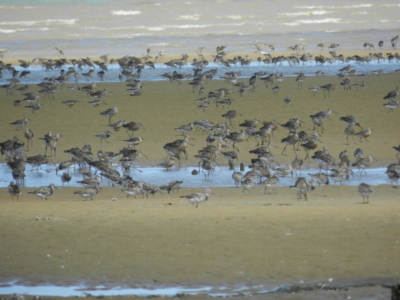 Great fun scanning for colour-bands and flags at Xingzhuang Estuary, Lianyungang, Jiangsu, China © Katherine Leung, Aug 2021
Owing to my past work experience in wetland habitat management, I also write management plan and give habitat management advice to wetland protected area. I believe this is how scientific knowledge gain from research and monitoring can really become conservation impact.
As a volunteer, I am part of the China field work team with "Saving the Spoon-billed Sandpiper Project", carrying out survey for population estimate, banding and satellite tagging. I also help to collect colour-bands and flags sighting records from birders in China and convey them to the corresponding ringing teams in the EAAF.
I couldn't be more happy with my busy work-life with shorebirds!